about inga hunter
I am a mixed media artist, who works in the Blue Mountains, West of Sydney, Australia.
I was made to do university studies rather than art school, majoring in Education and Anthropology, which I don't regret - married early, had children and began making and selling childrens' pictures. My life really is my art education; at the beginning naïve, and changing as I learned more skills and lived more life. Writing this feels a bit like an exhumation, but in these galleries I want you to find my life in art, and it has to be honest.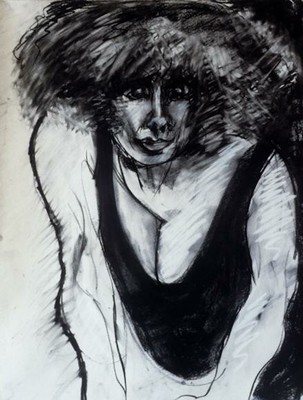 I did post graduate studies in Education, taught in high school and university, and began to work as a cartoonist for newspapers and magazines. The cartoon quality still surfaces through my work at times, which disturbs some people. In the late Sixties, I was in the beginning of a Masters degree in Linguistics when I ran away from my life, and one of the first people I met was a weaver – so I learnt to weave, and sold garments, crocheted clothes, and painted skirts with magic mushrooms (it seemed quite normal in those days and I needed to earn money).
One day I discovered batik, and my life was changed. I worked in batik, taught it, lived it for many years. I realised that noone knew much about cold dyes in Australia, so I began to teach   and write about all types of cold dye techniques by reading industrial texts and translating them into ways and means that ordinary people could use. This eventually led to other forms of surface design, including shibori - which I taught myself out of Yoshiko Wada's book . In 1974 or so I  had begun an organisation then called the Batik Association, which was extremely successful in promoting batik and surface dyeing to an almost exclusive weaving, embroidery and pottery world. This organisation is now over thirty years old  and is now called the Australian Textile Arts and Surface Design Association.
At 36 I learnt to quilt, at 40, I learnt embroidery like all my English women ancestors.
In 1982 I began to write articles for the new Textile magazine started by Janet de Boer, taught at her Fibre Forums, and have continued writing for the magazine to this day.
I discovered handmade paper in the 1980's and spent time working in cast paper combined with fabrics. The seduction of paper,  and the lack of rules for using it, unlike textiles, seduced me utterly, so I began to learn all those techniques I would have done at art school, drawing, painting , all sorts of printmaking. What I tend to do is to add all these things together – everything I learn goes with all the others. Hence the mixed media. I invented a world and made small paper costumes which reflected the customs of the world –Robes of the Imperium, a body of work which is still with me.
In the 1990's I discovered my ancestors – I wasn't the strange alien I had always felt in an English and Australian world, but was the descendant of a Scottish planter in Jamaica and African slaves. I read the history, went to Jamaica to meet my family, and began to work from my past. Who wouldn't? Besides my great, great grandmother has no name, despite being the black mother of our family - and this haunts me.
Now I work  more or less in shrines, small paper costumes, artists' books ---and whatever next comes down the pipeline in my lifelong learning process.
Practising artist since 1973, 52 years teaching experience, both in Australia and overseas.

Tutor - various Art Schools in Sydney, freelance, McGregor Summer School, Fibre Forum, NZ, USA

Writer- Fibre Forum magazine since 1982, Surface Design USA, Beadworks USA, OZ Arts

Founder - The Surface Design Association of Australia

Twenty solo Exhibitions and numerous group exhibitions. Incl Blake Prize, and 2008 Libris Awards Exhibition, Mackay.

Collections - many private and corporate in Australia and overseas.

Park Lane Hotels Sydney, Hong Kong, Bankok

Sandoz, Sydney

Lilianfels Hotel Katoomba

Public collections

Australian National Gallery

Artbank

Victorian Craft Authority

Powerhouse Museum

New York Museum of Art and Design

Edith Cowan University

Queensland Art Gallery

Darwin Museum and Art Gallery

Ararat Art Gallery – a collection of works

Mackay Library

Publications - numerous, incl:

The Crafts Movement in Australia, NSW Uni Press

Masters of their Craft, Craftsman House

New Visions New Perspectives, Craftsman House

Fire and Shadow, Craftsman House

Art Express, USA

Handmade Books and Cards, Davis,USA

Shrines, Lark Books USA