textiles
I failed to learn to sew, knit and crochet in early childhood. My mother thought I was spastic like my brother. She came from ancestors who ran a gingham factory, and whose female members all worked in textiles, ranging from pattern design, millinery, to high fashion and all forms of embroidery. However,  like most women of my generation,  I made all my own clothes, and those of our children, so I'm not totally useless, but it is odd that I should have made much of my career like all the others – in textiles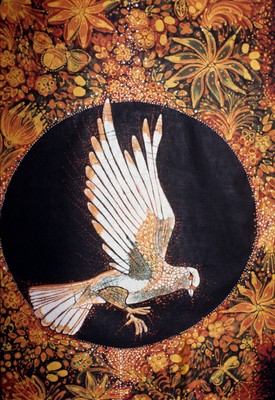 In 1969 I took up weaving and spinning and plant dyeing, and sold jackets and hippy ponchos for a living.
I asked my mother to teach me crochet [she sighed and said not again! ] so I then crocheted clothes for boutiques. But it was the batik course I enrolled in after I lost my third child, that set me off on my real working life. For me batik was fascinating. It is highly graphic, colourful and also back to front – perfect for a highly creative lefthander.  So I developed the skill, taught it, and founded an organisation to promote it [now the  Australian Textiles and Surface Design Association].
I have always loved dyestuffs since I dyed my own clothes as a teenager, and this love kept me learning new dyeing techniques and also teaching them, until in 1982 I fell deeply in love with handmade paper. You can do anything with it – size it for drawing and painting; stitch it; cast it into sculptural forms......and most valuable for me, your customers didn't go banging on about wash and light fastness, etc. Actually, I only learned how to make paper for my college students, but it seduced me entirely, and became my major medium.
I didn't desert textiles. I went to embroidery classes, learned soft sculpture and all sorts of textile skills I hadn't done before. I learned to use disperse dyes, and combined them with wax resist and metallic fabric paint on plaited  textile works. These techniques all use heat [melting wax resist, fixing paint and printing the dyes], so I used them to make experimental works where the heat melted the weft or warp of the fabric during the printing process. Unfortunately, abstract textile works done in entirely unknown techniques were so unpopular in the Eighties that after several totally failed exhibitions I gave up, and took up shibori, which I began teaching after I met Yoshiko Wada in 1980,  bought her book, and taught myself the skill.
I still use a lot of fabric and thread and dyes, but I have much wider range now. I continually apply textile techniques to paper and combine them with more traditional graphic art skills.