A Drawing a Day
The article that started a small drawing circle in Australia.
"I found the pressure of doing something every day distressing. I just don't work like that. The book took over my whole life. But I solved the problem by cheating….."
A drawing a day for a whole year…… This was what Adele Outteridge suggested after having read Kimon Nicolaides' book 'The Natural Way to Draw'. Nicolaides says, "The student who really learns to draw will be the one who draws ." He suggests a daily composition exercise of 15 minutes a day for a year or two, or longer and it was this among other things that inspired Del with a project which proved to be so much more than we anticipated. There were six of us involved, in two states – the ones who actually lasted that is: Adele, Wim de Vos, Susan Bowers, Helen Sanderson, Charlotte Drake-Brockman and me.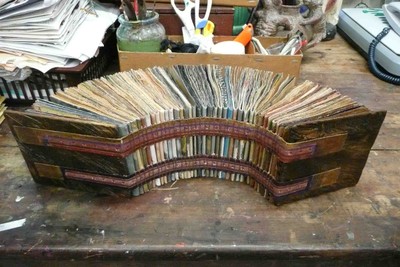 So it was that on the 1st of January, 1998 all six of us began to do a drawing a day, ultimately collected together as six individual artists' books.
I can't tell you the mechanisms everyone chose, although I do have some general comments and reactions to the project, but I can tell you how I went about it, which was probably pretty much the rule for the others too. With the help of Del, who was staying with me at the time, I first bought the paper for the whole year (book) and divided it up into folios of my preferred size.. Then I organised them into months, approximately three sections of folios per month. We were all different, but more or less all chose a sort of sketchbook format in high quality artists' paper. At that point I went off to the McGregor Summer School in Toowoomba to do a drawing class alongside Del and Charlotte, and did my first pages in a hotel in Brisbane, and at Janet de Boer's house. I had not learned how to cope so didn't carry drawing materials with me; therefore I did my daily drawing at Janet's in coffee!
The next two weeks were extremely stressful because our class was totally full-on and we were very hard pressed to keep up our drawings a day. We did, I think, largely because we kept each other going. It wasn't until we got home that the trouble started….. By this time I had a smart plaited folder for monthly sections, made by Charlotte, out of old psychology posters from USQ (University of Southern Queensland, where the McGregor Creative Arts Schools are held).
It was at this point that I decided I hated the paper – too flat, too bland, too even coloured – and proceeded to paint it all with shellac, dilute acrylic and glitter. This was disastrous because the inks I had used for January's drawings were not fast to methylated spirits and they ran. What a mess! It took me a whole month to get it all sorted out – and do the daily drawings as well. I heartily wished I had never become involved. I hated the blasted thing. I really wanted to have done the project, but not actually do it. As well, I had totally run out of ideas, which, of course is probably the whole point of the exercise.
We all went through similar crises. Charlotte says "I liked the concept but felt fenced in by it." Even for those who loved it, keeping up was a discipline which actually forced everybody to find their own particular strategies to help them work. Looking at it in retrospect, as we do now, this was one of the best outcomes of the whole thing. Some who had originally started, dropped out at this point. Others were in love – like Helen Sanderson: "I loved it. It was a great discipline. I tried to draw from anything and anybody around me at the time, when I had free minutes to draw – something I would never usually choose. Consequently it became quite an intimate document of my life." This was something common to all, as we realised when Del and Wim organised an impromptu meeting in the middle of the year, and we all got to see how we each had been working.
Like Charlotte, I find the pressure of doing something every day distressing. I just don't work loke that. The book took over my whole life. But I solved the problem by cheating. Not actually cheating, because there were no rules other than a daily drawing, but it felt like cheating. What I finally began to do, round about April, was to label my months, put them all in a box, set a subject for each section and do it all ahead of time. This meant that I had drawings in the bank, so to speak, and was free to do other things without the pressure that was so distressing. I did all the work while watching television at night. What that meant was that I actually did more than 365 drawings in total, so that my book os more than 30cm thick. This ended up being extremely satisfying. Helen too, says that she loved the "hugeness" of the book we created –"You would never set out to do anything as large normally." Adele was another who really got into it after a few months: "For me, the whole thing took on a life of its own by about April. I'm not sure what actually happened but it kept up the momentum until the end of the year. I didn't stick to one particular style, but rather took a fragment of each day. The book was not really a journal, but 365 fragments of 1998."
The Queensland artists actually had it a bit easier than Charlotte and I did. They were in contact with one another in person, while we only had contact by phone. We didn't see any of the others' work, or really talk to them until the mid-year meeting. That was a veritable injection of motivation for all of us. To actually see that people had done stuff was exciting. I think I might not have made it to the end without that.
Charlotte was still frustrated: "It is a horrible thing to be obligated to do something for a whole year when your heart isn't in it. I just wanted inclusion in the group." At the beginning she thought it a "wonderful idea" and a "good development for drawing". "When I was with my mates it was great. When I got home – forget it" The fascinating thing about Charlotte's book when we saw it at the meeting, was the gaps in it. She left pages empty, leaving everyone wondering what on earth she had been doing on all those blank days. I knew. She was organising the Murrurundi Arts Festival with a cast of thousands, parading with cardboard cars and horses, with workshops and children and the whole nine yards. And naturally, it rained on the parade. No wonder the pages were blank. At the end of the year when I saw the finished book, subsequent pages were still blank. I think she really hated the project. She says she wouldn't do it again.
Helen would like to do another project with the same people. I might, if there was more contact between participants and more support. It is terribly lonely doing a tough project like that in seclusion. That's one of the reasons Charlotte suffered so much. Del and Wim work together and they had no trouble. For Wim it was a natural extension of the artist's life – "the hand and the eye working in tune, to record" he comments further: "I enjoy drawing immensely. My 'diary' contains spontaneous marks, as well as more involved acts of drawing and painting with pastels, ink and pen drawing. My involvement with the project has produced the many moods one experiences in one year." Susan Bowers also combined forces with Wim and Adele, as well she brought a new twist to the exercise based on what she considered 'drawing'. She notes, "My commitment oscillated between enforced discipline and total addiction…. I love to draw so that was the easy part – what I enjoyed most was learning various techniques of image making, so my 'drawing a day' book was a record of those experiments – I still refer to it for source material… Wim, Del and I were lucky to share the project and often spent time drawing together – for me this was probably the best part of the project… the discipline required is extraordinary….."
In actual fact the project worked like a Thematic Apperception Test, revealing our different personalities very clearly. I am revealed with a very big problem with boredom. There are dozens of different subjects and styles in my book. Lots of boredom and lots of passion, and frivolity. Helen found the project so in tune with herself that she has started a new one each year since. She hasn't finished them but she has been making a lot of 'journey' books instead; more manageable in size. We all found seeing everyone's different, individual approaches to be fascinating.
You may ask, was it worth it? Did we get anything out of it? We all improved our drawing. We all had the intense satisfaction of lasting the year – a real proof of discipline. We all loved being part of the group. It makes us a handful of people apart, who have all gone on the same difficult journey and survived. Helen says it for all of us: "My drawing improved as I became less involved with doing a drawing for the book, and more enjoying the process of drawing." The discipline of the project was also a good stimulus for ideas." Says Wim. I can relate to that. I was desperate for things to draw, and this led to all sorts of interesting cut-outs and textures etc. It really stretched me. Del too; she bound my book for me, and it was so thick that she had to invent a whole new binding method for it.
If nothing else, we all are vastly proud of the actual 'presence' of our books. They are extremely beautiful. And precious. I am very tempted to do it all again…………
Transcribed from Textile Fibre Forum No. 61, 2001