A Drawing a Day Revisited
The article that described and augmented a huge online drawing circle in Australia.
Having just finished a week's drawing workshop, I have been thinking  about the nature of drawing.
The prehistoric cave painters of Lascaux are supposed to have been shamans who believed that their drawings would make it possible for hunters to find their intended prey easily and to kill it accurately – a literal drawing of the animals to the hunter.
Painters and sculptors constantly talk about drawing as if it were more than just a physical skill  - Henry Moore says that "Discipline in Art is a fundamental struggle to understand oneself as much as to understand what one is drawing".
I'm quite sure  that drawing has something of the shamanic about it still, which may be why we are all so fascinated by it, and in some cases afraid of it. And, crazy as this sounds, maybe is also  why Adele Outteridge's original A Drawing a Day scheme has lasted as long as it has – 11 years and  still going.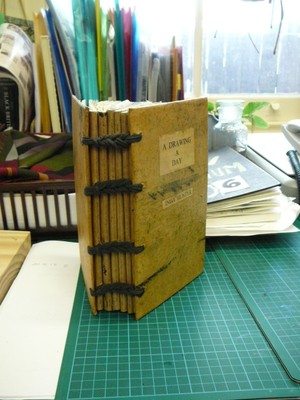 It first began in 1998 with 6 artists, and was based on Kimon Nicolaides' book "The Natural Way to Draw" in which he urged students to draw daily. That first project was  done over one year [ if you want to read about it, look at Textile Forum magazine no 61, 2001, pp 54-55]. After that year three of the people involved continued drawing until Adele proposed another project in which participants could contact one another by email via an online newsletter, coordinated by Adele from the WestEnd print studio. It was to be a self-motivated project with individuals to set their own guidelines. The brief was as follows:
1]  To commit to a drawing a day for a year.
2]  No set rules, and no guilt for missing days; blank pages OK.
3] Any medium, any substrate, any book to be acceptable, even drawing into sand with a
stick.
4] Any time limit for drawing, from seconds to many hours.
5] Any or no theme.
People were encouraged to write about what they were doing and to send [low res] scans or photographs of their drawings to be included into the monthly online newsletter. The project has continued successfully since its inception in 2006, and today 80 people receive the newsletter.
Adele says about her own involvement  "My Dad is currently up to date. It is very different from my original one which had a more narrative approach – a collection of fragments of the year. I drew things and some ideas. There is still the odd drawing of  something in the current one, but it is now mostly an exploration of mark-making. I have done lots of monoprints using leftover etching inks and I am currently trying to use watercolours. Earlier this year I had a lot of fun playing with the marks made by different pens – and did a whole series on lines. I am mainly working on Fabriano Artistico paper and binding them into three-month volumes. I completed years 2006,7 and 8 this way.
There are also other Fibre Forum people who have joined the project, and as usual everyone responds differently, which is what you get to see in the monthly newsletter.Everyone has something to offer, and everyone is unique.
Jane Nicholas recently began, but pressure of work – a TAFE  Art course and two books to prepare for publication - forced her to stop after only 3 weeks. She says, "I really enjoyed the drawing process once I started, but kept thinking of all the things I should be doing.".
I rejoined in 2006 despite the fact that I became so obsessive in 2008 that I did nothing else for the whole year, and ended up with a book too huge, and too unwieldly to handle. This time I used little cheapish brown Moleskine notebooks, both lightweight and unobtrusive. As before, I ended up drawing in front of  TV- cooking shows this time, so 2006 was filled with recipes illustrated by drawings of prawns, chickpeas, chillies and the like. I finally got so bored with it that I filled the rest with drawings of crazy invented insects. I bound the books into one volume – 8 of them, using link stitch binding with strips of old T shirt, and found myself inanely pleased with it and its recipes. I am now continuing spasmodically, using a selectively gessoed altered book. Its very presence invites drawing, which I certainly don't do daily, but which I need to do to keep up my skill. I normally work on several books at a time:- a general journal, and currently, a special journal for the work I'm doing for a new exhibition of the Robes of the Imperium. My problems are lack of time, and a low threshold for boredom, which tend to preclude an organised daily drawing. I manage in my own way -  which is what it's about, after all.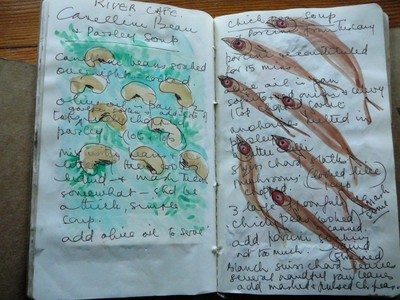 Kirry Toose, another member of the group says,  " I try to be constructive about my art practise every day, but I don't necessarily draw daily. I tend to concentrate for several hours [eg sitting in the car waiting for Eilysh at Uni]. I have rekindled a passion for drawing. I still haven't the freedom of spirit to sit and draw in public, sipping coffee, people watching and observing. That confidence would certainly help fulfil my goal in drawing every day. My drawing downfall is this lack of freedom and spontaneity, which is why  I keenly observe every innuendo in pen and pencil line in drawings by group members who have overcome this obstacle. Yes, I love drawing every day – well, nearly. I love the fact that I "belong". I love observing other artists' style of artmaking and interpretation of daily occurrences."
Anne van der Kley has been with DaD for some years now. She says, "The back stalls of the Kinross campus dining room, where I was with some of the other so-called "naughty" girls, namely Inga, Adele and Charlotte, was a revelation to me a couple of years ago. The three amigas  were happily doodling, drawing and dabbling with numerous drawing implements in little notebooks and on paper napkins, continuing their "Drawing a Day" started many years previously.
With my lament that "I can't draw" I was immediately introduced to the DaD concept. I have continued on a fairly regular basis, not always daily, to sketch-out ideas, draw what is in front of me in so many more ways that I saw previously, to add notes, reminders and words to my constant travelling companions, my little Moleskine sketchbooks.
I know that my perception has changed, that a thread of an idea has grown and developed now that Ihave become more disciplined in maintaining a journal. My DaD journey began with a generosity of spirit of sharing and nurturing and developing that is Forum, and the 3 amigas embracing a new acolyte
I think that to be happy and successful with DaD, you need to have a highly personal strategy for your life alone. Don't draw daily if you don't want to, but do carry a little book around and draw when you can. Do join the online group. But you don't have to send drawings if it is painful.  Do what you can and you will be well-rewarded. Drawing is a form of magic; it really is. And if you do it,  you will probably end up by knowing a great deal more about yourself, than you do now.
Just  so long as you don't start dragging home mammoths.
Transcribed from Textile Fibre Forum No. 96, 2009 ~ Page 1, Page 2.